The main character of this case is the solar stake system located in Panama, which is located in the northwest isthmus of South America. This country is near the equator and has a tropical marine climate. It is humid in the day, cool at night, and the annual average temperature is 23-27C°. The whole year is divided into dry and rainy seasons, with annual average precipitation of 1500-2500 mm, and annual average illumination time of more than 12 hours. Therefore, it is necessary to select the most suitable angle to achieve the maximum power generation of the solar mounting system.
本次案例主角是位于巴拿马的光伏拍桩系统,巴拿马位于南美洲的西北地峡部分,这个国家地近赤道,属热带海洋性气候,白天湿润,夜间凉爽,年平均气温23-27C°。全年分旱、雨两季,年均降水量1500-2500毫米,全年平均光照时间在12小时以上,因此需要选择最合适的角度达到最大的光伏支架系统的发电量。
This project uses the solar mounting system of the pile. The pile needs to be patted on the soft soil with the engineering vehicle of the pile, which greatly strengthens the stability of the whole solar pile mounting system, and uses a lower angle to maximize the use of the solar panel.
本次项目采用的是拍桩光伏支架系统,用拍桩的方式,拍桩需要在较为松软的泥土地上,用拍桩的工程车拍桩,而且极大加强了整套太阳能拍桩支架系统的稳定性,更是采用较低的角度,使光伏面板能最大化利用。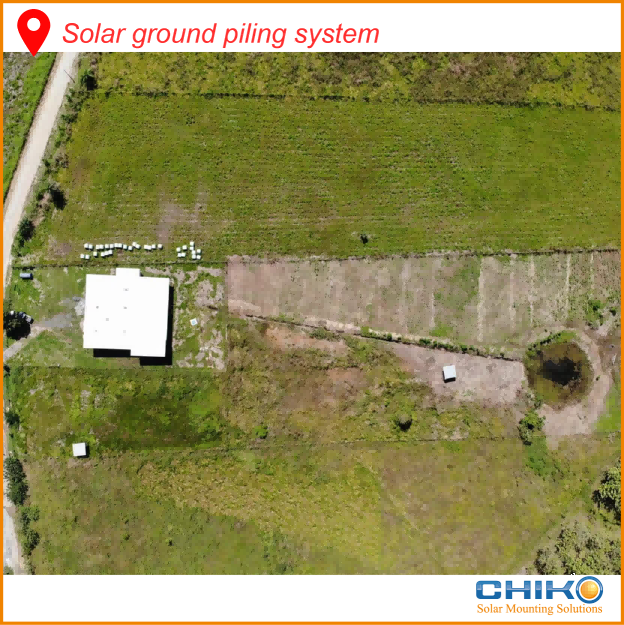 Because of its stable characteristics, this solar mounting system is popular all over the world and is part of distributed solar.
由于其稳定的特性,这款光伏支架系统在全球都受到欢迎,并且是分布式光伏的一部分。
Chiko has integrated customized services, from customized solutions to processing and production, and finally to packaging and shipment, which can solve your needs in solar mounting solutions in a one-stop manner. For more product details, please contact us!
晨科拥有一体化的定制服务,从定制方案到加工生产,最后到包装出货,可以一站式解决您在光伏支架解决方案的需求,更多产品细节请联系我们!

Above news from CHIKO Sales & Marketing department
Add: No 680 Xingwen Rd. Jiading dist. Shanghai 201801 China
Email: Chiko@Chikolar.com
Website: http://www.chikolar.com
Fax : +86 (21)59972938
Phone: +86(21) 59972267 59973712 59973713--811