solar tracking bracket, as the name implies, this system can track the sun like a sunflower, higher photosynthetic efficiency than the traditional fixed bracket system, and the technical difficulty is also higher than the fixed bracket, it is necessary to analyze and simulate the force analysis and simulation of the influence of wind force on the strength of the bracket due to different angles, and the choice of single-axis, dual-axis or other auxiliary systems also has certain requirements for materials. According to the Energy Research Institute of the National Development and Reform Commission, "it is conservatively estimated that tracking technology can increase the power generation of solar power plants by 20% ~ 30%".
光伏跟踪支架,顾名思义就是这款系统可以像向日葵一样追踪太阳,比传统固定式支架系统的光合效率更高,同时技术难度也比固定式支架高,需要对因不同角度风力等对支架强度的影响进行受力分析和模拟,选择单轴、双轴或其他辅助系统,对材质也是有一定的要求。据国家发改委能源研究所介绍,"保守估计,跟踪技术可以使光伏电站发电量增加20% ~ 30%"。
Chiko has been studying in the field of solar tracking brackets for many years, and has many mature technical solutions.
而晨科已经在光伏跟踪支架领域钻研多年,并且有很多成熟的技术方案。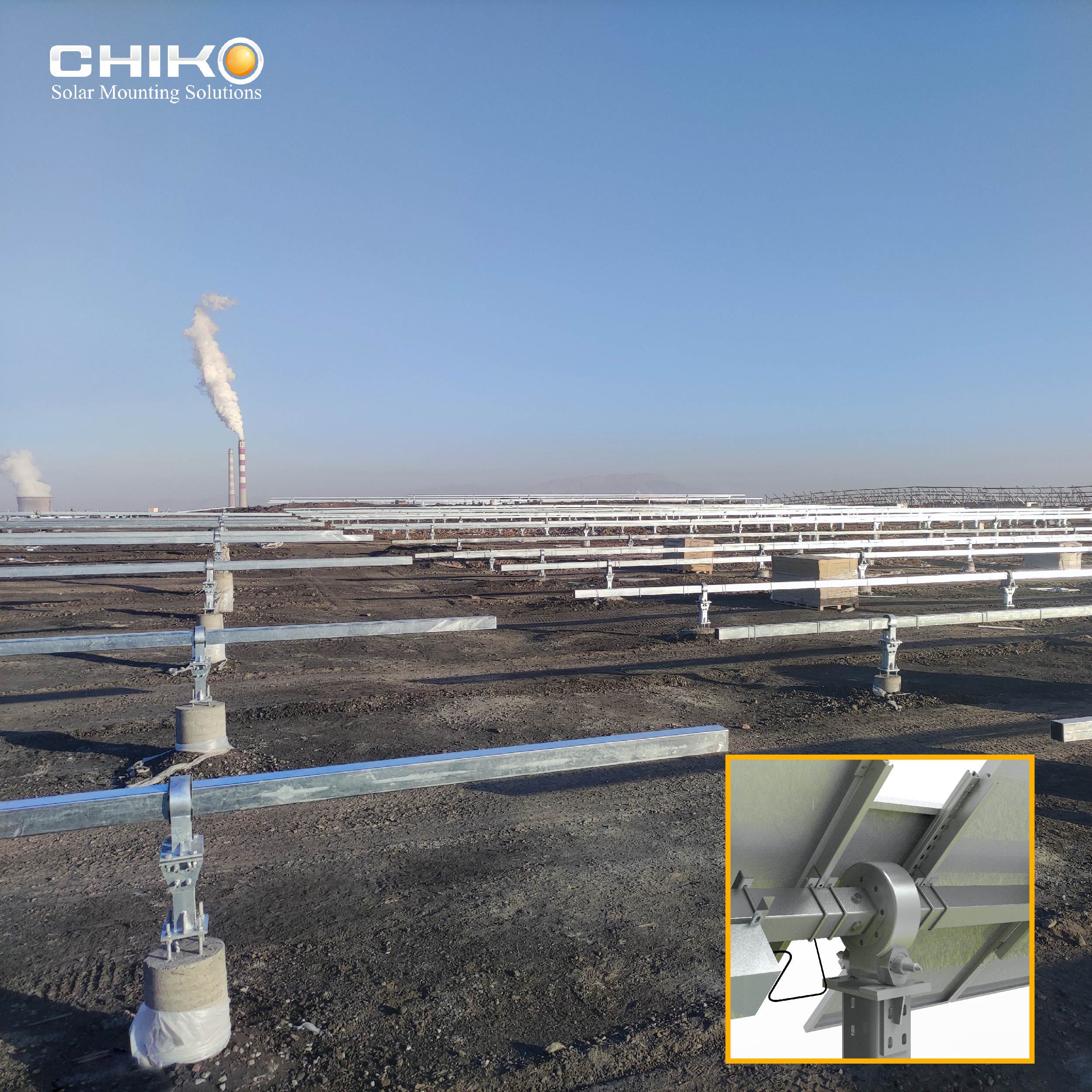 On the wasteland of Inner Mongolia, the 4.4MW solar tracking bracket system just completed by Chiko Solar is sitting, and the whole process is guided and tracked, followed up the landing, and provides answers for the technology online. This system adopts a flat single-axis tracking bracket system, most of which is made of steel, according to the angle of technical calculation, written into the program, so that the solar tracking system is transformed according to the sunshine angle of spring, summer, autumn and winter.
在内蒙古荒地上,正坐落着晨科光伏刚刚完成的4.4MW光伏跟踪支架系统,全程专人指导跟踪,跟进落地,在线为技术提供解答。这套系统采用的是平单轴跟踪支架系统,大部分材质是钢制,根据技术计算的角度,写进程序里,使光伏跟踪系统根据春夏秋冬的日照角度进行变换。
Shanghai Chiko has been established for 12 years, with a cumulative installed capacity of more than 30GW, gathering high-precision talents and well-equipped key laboratories across the country, design verification standards covering most countries in the world, obtaining more than 40 domestic patents, focusing on the research and development, design, manufacturing and sales of solar roof fixed brackets, solar ground mount, solar manual adjustment mount, BIPV systems, flexible brackets, solar mounting carports, Solar TPO roofs and solar tracking systems.
上海晨科成立已有12年,累计安装量超30GW,齐聚全国的高精尖人才以及配置齐全的重点实验室,设计验算标准涵盖全球大部分国家,取得40多项国内专利,专注于太阳能固定支架,手动可调,BIPV系统, 柔性支架, 光伏支架车棚, TPO屋顶以及跟踪系统的研发、设计、制造和销售。
If you need to know more solar mounting solutions, please contact us!
如果你需要了解更多光伏支架解决方案请联系我们!

Above news from CHIKO Sales & Marketing department
Add: No 680 Xingwen Rd. Jiading dist. Shanghai 201801 China
Email: Chiko@Chikolar.com
Website: http://www.chikolar.com
Fax : +86 (21)59972938
Phone: +86(21) 59972267 59973712 59973713--811