CHIKO Japan Engineering Project: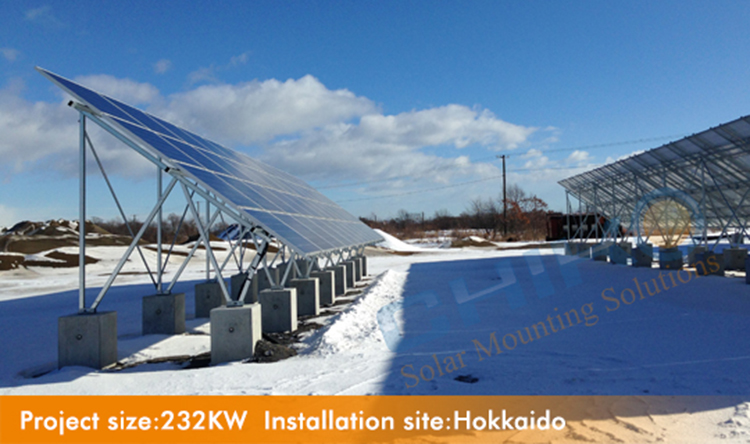 First of all, Japan has a large latitude span (25 ° to 45 °), but the country generally adopts a design where the installation angle of the solar mounting structure is less than 30 °.
First, due to the scarcity of land resources in Japan, the design of photovoltaic power plants will use larger installed capacity to pursue the increase in power generation.
The second is that Japan is different from most countries in that there is more scattered light in the sunlight received on the ground. Therefore, using a tilt angle smaller than the optimal angle will not cause a significant loss of power generation. Therefore, after a balanced comparison of increased land utilization and maximum power generation, a smaller inclination will be used. However, in the Hokkaido region where the latitude is relatively north, the inclination of the module may be greater than 30 °, mainly considering that the snow on the module can slide down by its own weight in winter.
Secondly, the use of two-row vertical type is to consider the convenience of construction and the effect of natural rain cleaning and snow sliding. The two-row vertical solar mouting structure is more conducive to construction, and the highest point of the module will not be too high.
The construction personnel can install all the components and connect the wiring between the components while standing on the ground, which greatly saves the construction time. In Japan, where labor costs are high, the construction cost of the power station is greatly reduced. In addition, the vertical type makes the fault difference between the glass surface of the module and the aluminum frame twice higher than that of the horizontal type, making the cleaning effect of natural rainfall and the effect of snow sliding better than the horizontal type. In areas where salt particles are more close to the coast, the advantage is particularly significant.
As a leading Solar mounting structure manufacturer in the world, CHIKO Solar has a production scale of 1000MW roof Solar mounting system and 1200MW ground Solar mounting system. And the company has more than 40 domestic and foreign patents, and has a strict product quality system and perfect design and installation technical specifications. The photovoltaic brackets and related supporting products independently developed by CHIKO Solar have passed TUV, UL, AS / NZ1170.2, ISO and other certifications. The quality of CHIKO's products is universal. Withstand the test of time and users!

Above news from CHIKO Sales & Marketing department
Add: No 680 Xingwen Rd. Jiading dist. Shanghai 201801 China
Email: Chiko@Chikolar.com
Website:
http://www.chikolar.com
Fax : +86 (21)59972938
Phone: +86(21) 59972267 59973712 59973713--811