The combination of solar bracket system and building is one of the most important features in solar applications, and solar buildings have promoted the goal of "carbon peak and carbon neutrality", and the application of clean energy buildings represented by solar has ushered in a period of rapid development opportunities. So, in the flat roof building, how do we plan the installation area of our solar bracket system to achieve the optimal scheme, below I will introduce to you - the installation area of the flat roof building solar bracket system.
光伏支架系统与建筑物的结合是光伏应用中最重要的特征之一,同时光伏建筑推动了"碳达峰、碳中和"的目标前进,以光伏为代表的清洁能源建筑应用迎来了快速发展机遇期。那么,在平屋顶建筑中,我们如何去规划我们光伏支架系统的安装面积,来达到最优化的方案,下面我将为你介绍-平屋顶建筑太阳能支架系统的安装面积。
The application of solar mounting systems in flat roofs mostly appears in large-scale commercial, cultural, hospital and other types of buildings, and when installing solar flat roof mounting systems, it will be affected by the following.
光伏支架系统在平屋面的应用大多出现于大型的商业,文化,医院等类型的建筑物,而且在安装太阳能平屋顶支架系统时,会受到的影响有以下这些。
(1) Construction equipment: Some buildings will have water tanks, generators, etc. on the roof, there will be footprint, surrounding safety examples, equipment system shadow occlusion three aspects of the impact, at least away from these at least 2 meters or more.
①建筑设备:一些建筑会有水箱、发电机等在屋面上,会有占地面积、周围的安全举例、设备系统阴影遮挡三个方面的影响,至少要远离这些至少2米以上。
(2) Elevator machine room and roof stairs: These buildings on the roof are generally about 4m, and their shadows will cause losses to the installation area of the flat roof solar system, generally about 4m.
②电梯机房以及屋顶楼梯:这些在屋顶上的建筑物一般在4m左右,其阴影对平屋顶光伏系统安装面积会造成损失,一般在4m左右。
(3) Parapet wall: Due to the maintenance needs of the solar bracket system, the general parapet wall is considered according to 1.5m.
③女儿墙:由于太阳能光伏支架系统的检修需要,一般女儿墙按1.5m考虑。
(4) PV system maintenance channel: When installing the flat roof solar bracket system, it is necessary to leave the PV bracket system array blank to facilitate the passage of maintenance personnel, and the general width is about 1.2m.
④光伏系统检修通道:在安装平屋顶光伏支架系统时,需要在光伏支架系统阵列进行留空,以方便检修人员通过,一般宽度在1.2m左右。
Considering the above conditions, when installing a solar mounting system on a flat roof, it can be considered according to 70% of the roof area.
综合上述条件考虑,平屋顶安装太阳能光伏支架系统时,可以按照屋面面积的70%考虑。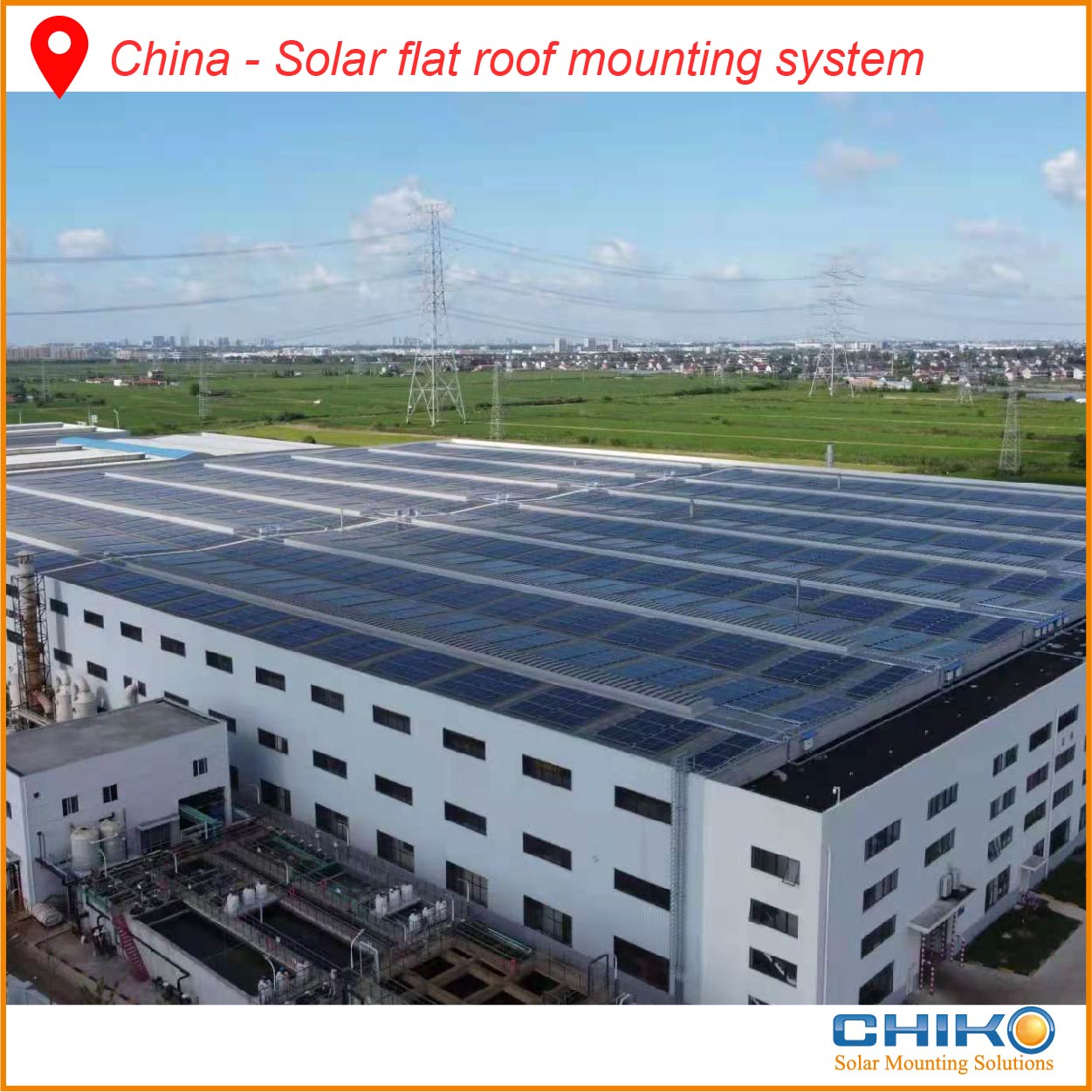 晨科的技术团队已经为超过100+个项目打造了优质的平屋顶支架方案,拥有丰富的项目经验,如果你想更加详细定制您的平屋顶光伏支架系统解决方案,请联系我们!
Chiko's technical team has created high-quality flat roof bracket solutions for more than 100+ projects, with rich project experience, if you want to customize your flat roof solar mounting system solutions in more detail, please contact us!

Above news from CHIKO Sales & Marketing department
Add: No 680 Xingwen Rd. Jiading dist. Shanghai 201801 China
Email: Chiko@Chikolar.com
Website: http://www.chikolar.com
Fax : +86 (21)59972938
Phone: +86(21) 59972267 59973712 59973713--811