According to theory, the maximum wind resistance of solar bracket is 216km/h, and the maximum wind resistance of solar tracking bracket system is 150km/h (greater than Chapaca typhoon: 13). In order to withstand the impact of typhoons, it is necessary to choose the right solar bracket solution. First of all, we must find the site of the solar power station, reasonably calculate the wind pressure and snow pressure, and strengthen the strength of the foundation and support.
光伏电站的抗风能力跟光伏支架有很大关系,根据理论,光伏支架的最大抗风为216km/h,光伏跟踪支架系统最大的抗风为150km/h(大于查帕卡台风:13级)。为了抵御台风的侵袭,就需要选对光伏支架解决方案。首先要找对光伏电站的选址,合理计算风压、雪压,同时要加强地基、支架强度。
The counterweight of household solar bracket system is generally cement foundation, cement foundation to fully consider the load of the building, while to meet the requirements of wind load and snow load resistance, under normal circumstances, will be designed according to the local wind pressure once in decades, the weight of the cement foundation and concrete strength have strict requirements.
户用光伏支架系统的配重一般为水泥基础,水泥基础要充分考虑建筑物的载荷,同时要满足抗风载和抗雪载的要求,一般情况下,会以当地几十年一遇的风压为标准进行设计,对水泥基础的重量及混凝土强度都有严格要求。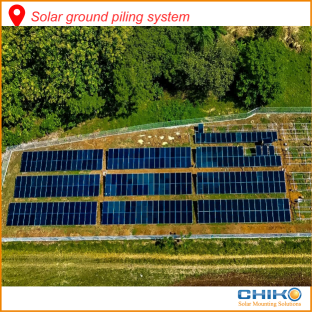 No matter what kind of windy scene, there are high requirements for the quality of solar brackets and solar mounting solutions, and Shanghai Chiko has been established for 12 years, with a cumulative installation capacity of more than 30GW, gathering high-precision talents and well-equipped key laboratories in the country, design verification standards cover most countries in the world, and have obtained more than 40 domestic patents, focusing on the research and development, design, manufacturing and sales of solar roof fixed brackets, solar ground mount, solar manual adjustment mount, BIPV systems, flexible brackets, solar carports, Solar TPO roofs and solar tracking systems.
不管是何种大风场景,都对光伏支架的品质以及光伏支架解决方案有很高的要求,而上海晨科成立已有12年,累计安装量超30GW,齐聚全国的高精尖人才以及配置齐全的重点实验室,设计验算标准涵盖全球大部分国家,取得40多项国内专利,专注于太阳能固定支架,手动可调,BIPV系统, 柔性支架, 光伏车棚, TPO屋顶以及跟踪系统的研发、设计、制造和销售。

Above news from CHIKO Sales & Marketing department
Add: No 680 Xingwen Rd. Jiading dist. Shanghai 201801 China
Email: Chiko@Chikolar.com
Website: http://www.chikolar.com
Fax : +86 (21)59972938
Phone: +86(21) 59972267 59973712 59973713--811