On the earth in Saint Vincent and the Grenadines, our hero today - T2VC aluminum solar mounting system is displayed.
在圣文森特和格林纳丁斯一处的泥土地上,展示着我们今天的主角-T2VC铝光伏支架系统。
Saint Vincent and the Grenadines consists of Saint Vincent Island and the Grenadines Islands. It is a volcanic island country located in the south of the Lesser Antilles Islands in the Eastern Caribbean Sea, with a tropical monsoon climate. The average annual temperature is 23~31 ℃, and the annual precipitation is about 2500 mm. There are many hurricanes in the northern part of the island country. Therefore, when designing, we need to focus on the wind resistance requirements of the scheme. Chiko's design team has designed a special scheme for this purpose. First, the concrete pier is embedded in the soil, then the soil is backfilled, and then a layer of stone is paved on it to increase the wind resistance, Then, according to the layout, install and fix the single side of our pre assembled T2VC, pave the guide rail, install the battery panel and the middle side pressure, and complete a set of wind resistant and earthquake resistant T2VC aluminum solar ground mounting system.
圣文森特和格林纳丁斯由圣文森特岛以及格林纳丁斯群岛组成,是位于东加勒比海小安的列斯群岛南部的一个火山岛国,属热带季风气候。年平均气温23~31℃,年降水量约2500毫米,该岛国北部多飓风,因此在设计的时候,需要着重考虑方案的抗风需求,晨科的设计团队为此设计了一种特别的方案,首先在泥土地里预埋浇筑的水泥墩,接着泥土回填,再在上面铺上一层石子,加大抗风力度,然后根据排布安装并固定上我们预组装好的T2VC单边,铺上导轨,安装电池板及中侧压,一套抗风抗震的T2VC铝光伏支架系统就完成了。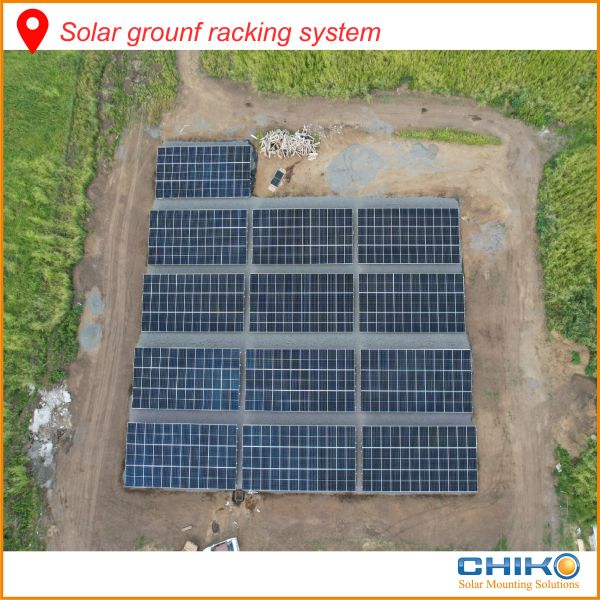 Chiko has a highly sophisticated team of engineers, has set up a key laboratory with complete configuration, the design and calculation standards cover most countries in the world, and has obtained more than 40 domestic patents and many overseas invention patents. It has established long-term cooperative relations with a large number of leading enterprises and is committed to becoming an energy technology enterprise with core value.
晨科拥有一支高精尖的工程师团队,成立了配置齐全的重点实验室,设计验算标准涵盖全球大部分国家,取得40多项国内专利,多项海外发明专利。与一大批龙头企业建立了长期合作关系,致力成为具有核心价值的能源科技企业。
Chiko Solar's various efficient and flexible solar mounting solutions are waiting for you here! Welcome to consult!
晨科太阳能各种高效灵活的光伏支架解决方案在这里等你! 欢迎咨询!



Above news from CHIKO Sales & Marketing department
Add: No 680 Xingwen Rd. Jiading dist. Shanghai 201801 China
Email: Chiko@Chikolar.com
Website: http://www.chikolar.com
Fax : +86 (21)59972938
Phone: +86(21) 59972267 59973712 59973713--811