Geely Automobile Group is a leading automobile manufacturer in China. In April 2019, Geely Automobile officially signed a contract with the organizing committee of the 19th Asian Games and became the official car service partner of Hangzhou Asian Games, marking the entry of Geely Automobile brand upgrade journey Brand new stage. The solar owner of this project is Zhejiang Yinglun Automobile, a subsidiary of the Fortune 500 Geely Holding Group. It is precisely because of the recognition of CHIKO's high-quality solar mounting system products and attentive services that CHIKO Solar was chosen.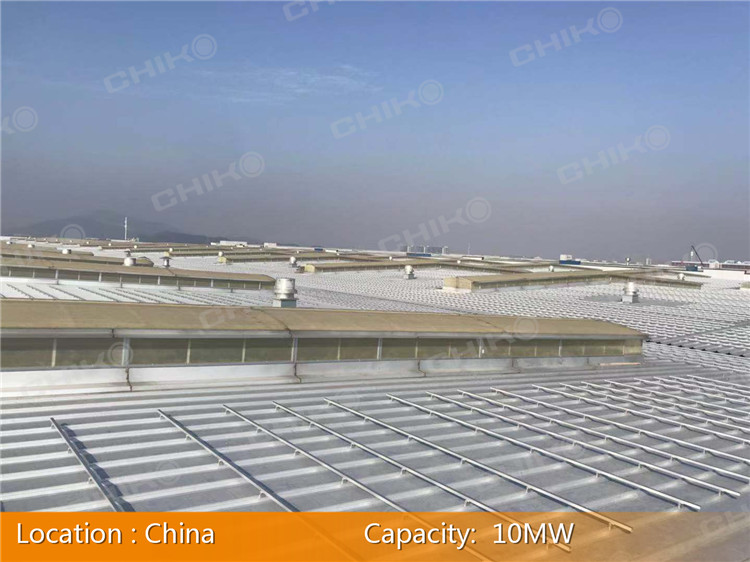 Project Name: Zhejiang 10MW metal roof solar Project
Installed capacity: 10MW
On-grid time: July 10, 2020
Project location: Yiwu City, Jinhua City, Zhejiang Province
Installation type: Standing seam metal roof
Products used: 46# Rail System +349 Fixture
Product features: 46# guide rail system + metal roof fixture, which can be installed to achieve the best stability without destroying the original roof waterproofing. This type of installation method uses a lot of metal roof installation. The high degree of pre-assembly metal roof solar mounting system makes it very convenient to install, easy to construct and save working hours.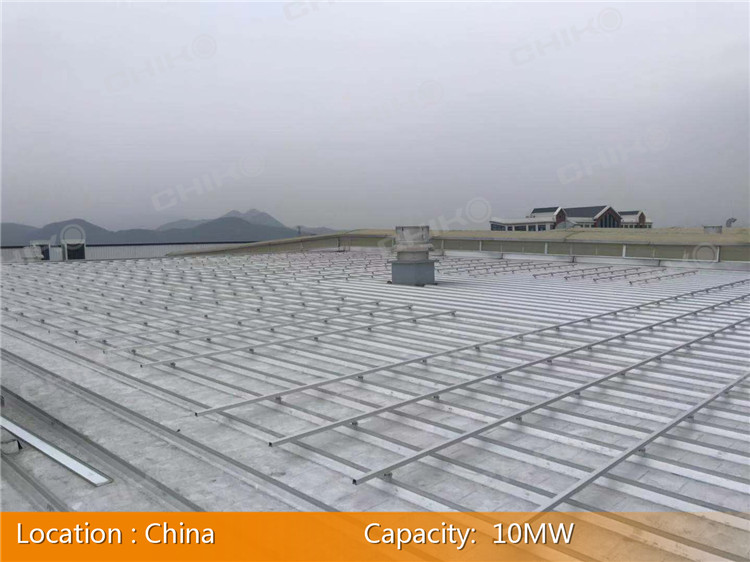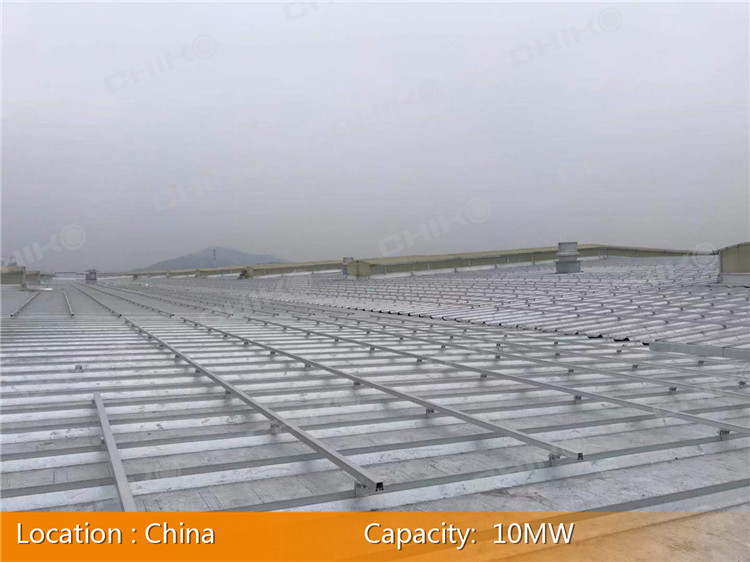 This project was installed on the company's metal roof roof. After the investigation of the installation environment and roof by the CHIKO technical team, the installation plan of using the CHIKO #46 rail system with the metal roof fixture was finally determined. During the implementation of the scheme, CHIKO engineers carried out fixture installation and pull-out tests on the roof, and the pull-out resistance reached 200KG to ensure the safety and stability of the installation of the solar mounting system.
The whole project is constructed in two phases, the first phase of the 6MW grid connection time is in December 2019, and the second phase of the 4MW grid connection time is in July 2020. At present, they have been officially put into operation.
Zhejiang Yinglun Automobile is mainly an electric taxi business. The successful connection of this project to the grid has helped to save energy and reduce emissions with the company, allowing tens of thousands of new energy vehicles to have new "food".
CHIKO Solar has been manufacturing and designing solar mounting systems for more than 9 years, and has established offices and warehouses in many countries and regions. CHIKO products have been installed and used in more than 60 countries and regions, with cumulative installed capacity Up to 8 GW. CHIKO's domestic business market is mainly distributed in Jiangsu, Zhejiang and Shanghai. It is committed to the R&D and design of industrial and commercial solar power station brackets. In 2019, CHIKO's domestic installed capacity is more than 500MW, becoming a well-known brand in the domestic solar market.

Above news from CHIKO Sales & Marketing department
Add: No 680 Xingwen Rd. Jiading dist. Shanghai 201801 China
Email: Chiko@Chikolar.com
Website:
http://www.chikolar.com
Fax : +86 (21)59972938
Phone: +86(21) 59972267 59973712 59973713--811