Shanghai CHIKO Solar Technology Co., Ltd was invited to participate in the Polish Green Power 2023 exhibition at Poznan International Fair MTP, which will be exhibited at booth number Pavilion 8/8A Nr.51. There will be a professional photovoltaic consultant on site to answer the latest solar mounting systems solutions for you, and you will be sent a downloadable electronic manual for you to preview at any time.
上海晨科受邀参加波兰Green Power 2023位于Poznan International Fair MTP的展览会,将在展位号Pavilion 8/8A Nr.51进行展览。现场将有专业的光伏顾问为您解答最新的光伏支架系统技术方案,并且为您送上可下载的电子手册方便您随时预览。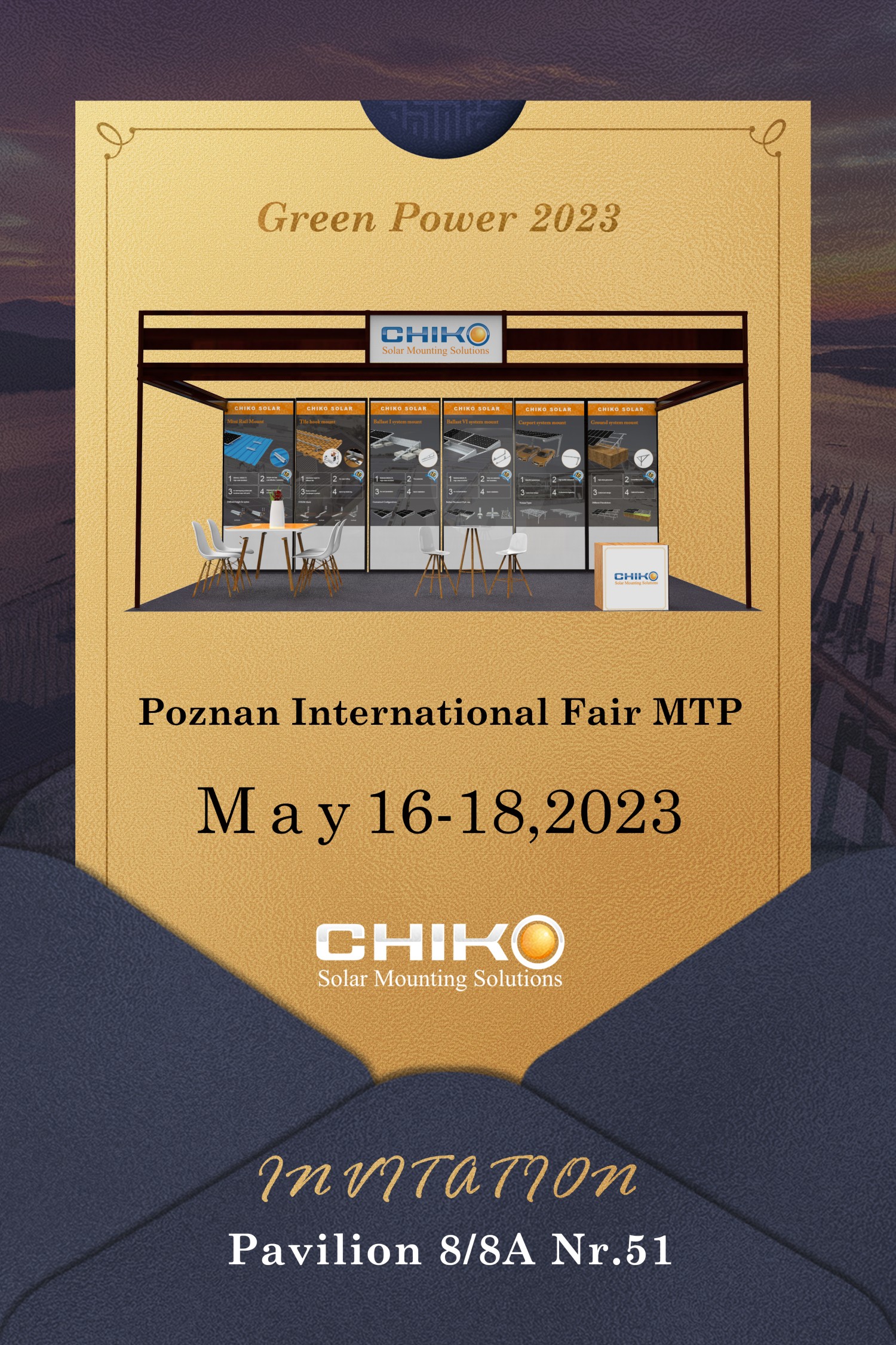 Green Power is the largest exhibition in Poland in the field of renewable energy. The exhibition attracts many representatives of international and domestic enterprises to exhibit products and technologies on site every year, and suppliers, distribution agents, end buyers and industry experts from Poland and neighboring countries come to the site for business negotiation, project investment, technical cooperation, academic discussion, etc. This year's exhibition focuses on the development of the photovoltaic field.
Green Power可再生能源展是波兰可再生能源领域最大的展览会。展会每年吸引国际和境内众多企业代表在现场展出产品和技术,来自波兰及周边国家的供应商、经销代理商、终端买家及行业专家来现场进行业务洽谈、项目投资、技术合作、学术讨论等。今年展会更是注重光伏领域板块的发展。
We sincerely invite you to participate in our exhibition, discuss the future development direction of solar mounting system and share the latest technical engineering cases of Chiko, if you are interested, please leave a message to us in the background, there will be someone to contact you!
我们诚挚邀请您参加我们的展会,一起探讨未来光伏支架系统的发展方向以及分享晨科最新技术工程案例,如您感兴趣,请在后台留言给我们,将会有专人联系您!


Above news from CHIKO Sales & Marketing department
Add: No 680 Xingwen Rd. Jiading dist. Shanghai 201801 China
Email: Chiko@Chikolar.com
Website: http://www.chikolar.com
Fax : +86 (21)59972938
Phone: +86(21) 59972267 59973712 59973713--811