Chiko solar invite you to participate in Solar & Storage Espana, May 10-11, 2023 at the World Trade Center exhibition hall in Barcelona, Spain, at HallA C6. We are a professional solar bracket manufacturer, with 12 years of experience and 30GW installation capacity in the solar bracket industry, the leading supplier in the solar bracket area.
我们邀请您参加2023年5月10日至11日在西班牙巴塞罗那世界贸易中心(World Trade Center Barcelona)展厅举行的Solar & Storage Espana展览会,晨科的展位号为HallA C6。我们是一家专业的太阳能支架制造商,在光伏支架行业内拥有12年经验和30GW的安装量,是光伏支架行业内的领先企业。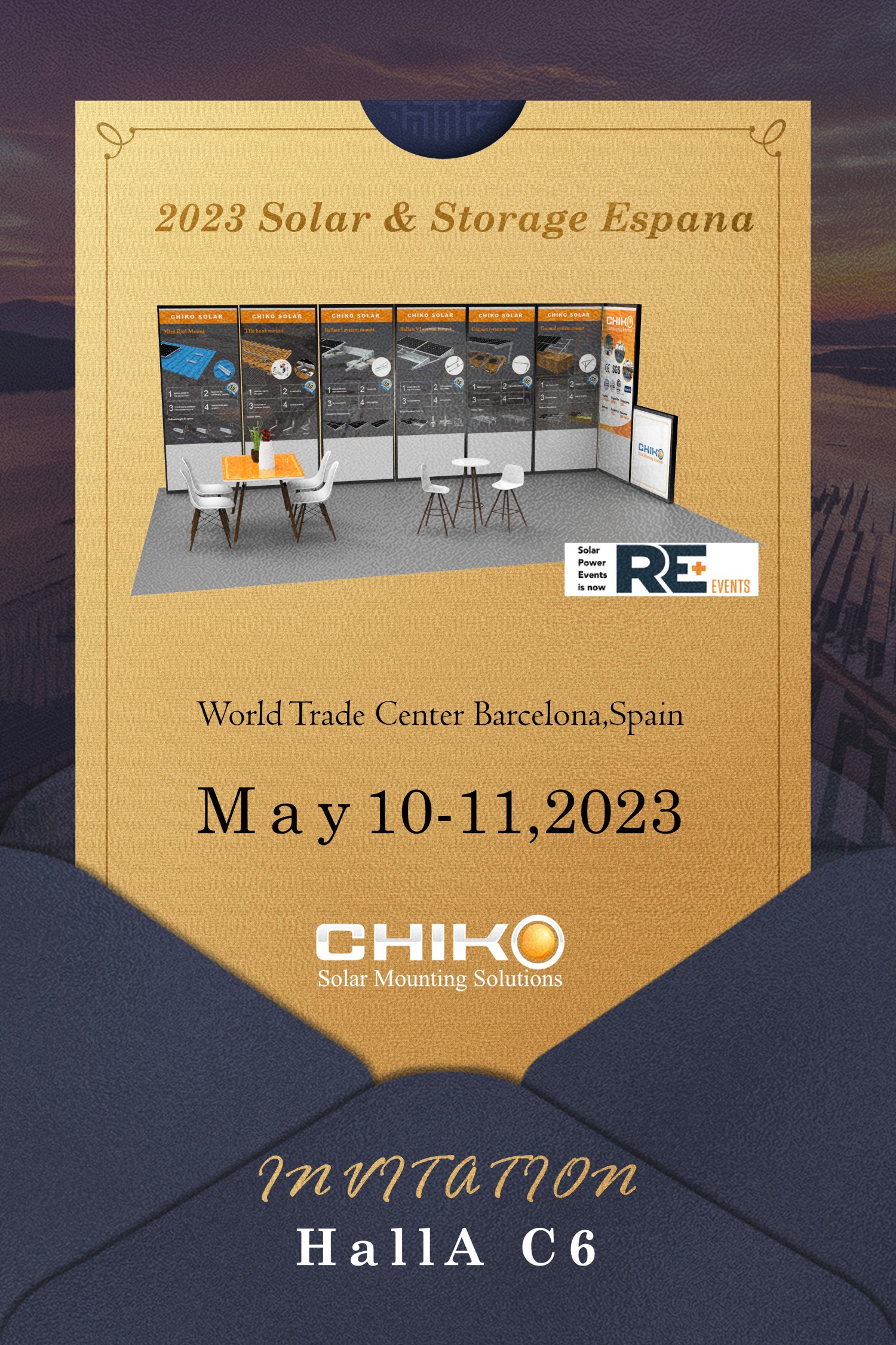 Our design team brings together the top high-precision talents in China, equipped with a complete set of key laboratories, covering the design verification standards of most countries in the world, and has obtained more than 40 domestic patents. We specialize in R&D, design, manufacturing and sales of solar fixed brackets, manual adjustable, BIPV systems, flexible brackets, solar carports, TPO roofs and tracking systems.
我们的设计团队汇聚了全国顶尖的高精尖人才,配置了齐全的重点实验室,涵盖全球大部分国家的设计验算标准,并获得了40多项国内专利。我们专注于太阳能固定支架、手动可调、BIPV系统、柔性支架、光伏车棚、TPO屋顶以及跟踪系统的研发、设计、制造和销售。
We have set up subsidiaries or service centers in more than ten countries such as the United States, Thailand, and Netherland, and passed the certification of more than 20 countries and regions around the world, including UL, TUV, CE, AS/NZS1170 and RWDI wind tunnel testing certification, so as to fully realize green energy into thousands of households.
我们在美国、泰国、荷兰等十多个国家设立了子公司或服务中心,并通过全球20多个国家和地区的认证,包括美国UL、TUV、CE、AS/NZS1170以及RWDI风洞测试等认证,以全力实现绿色能源走进千家万户。
We look forward to meeting you at Solar & Storage Espana, where professional technicians will answer your questions, and we provide cloud factory tours so you can keep abreast of our production sites.
我们期待在Solar & Storage Espana展览会上与您见面,届时,将会有专业的技术人员解答您的问题,同时我们提供云看厂服务,方便您随时了解我们的生产现场。
If you are interested, please leave your relevant information in the background, we will arrange professional personnel to contact you!
如您感兴趣,请在后台留下您的相关信息,我们将会安排专业的人员联系您!

Above news from CHIKO Sales & Marketing department
Add: No 680 Xingwen Rd. Jiading dist. Shanghai 201801 China
Email: Chiko@Chikolar.com
Website: http://www.chikolar.com
Fax : +86 (21)59972938
Phone: +86(21) 59972267 59973712 59973713--811