In recent years, with the growing global demand for renewable energy, solar solar power generation has been widely used as a clean and sustainable form of energy. As an important part of solar solar power plants, the quality and performance of solar brackets are directly related to the stable operation of the power station.
近年来,随着全球对可再生能源的需求不断增长,太阳能光伏发电作为一种清洁、可持续的能源形式得到了广泛应用。而光伏支架作为太阳能光伏电站的重要组成部分,其质量和性能直接关系到电站的稳定运行。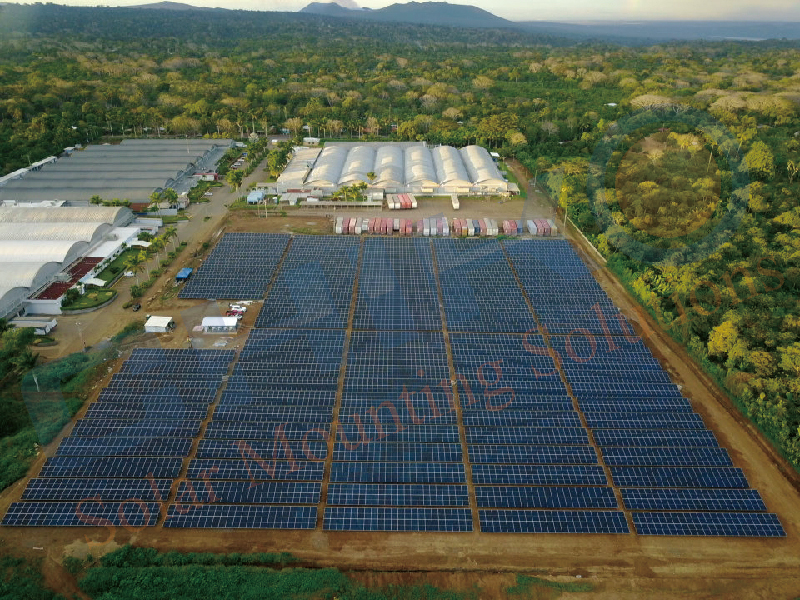 Shanghai Chiko is an enterprise focusing on the design, manufacture and sales of solar brackets. Over the years, Shanghai Chiko has been committed to technology research and development and innovation, and constantly promotes the development of solar bracket industry. The company has an experienced and professional R & D team, constantly introducing advanced design concepts and technologies at home and abroad, and integrating innovation into every link of products.
上海晨科是一家专注于光伏支架设计、制造和销售的企业。多年来,上海晨科一直致力于技术研发和创新,不断推动光伏支架行业的发展。公司拥有一支经验丰富、专业的研发团队,不断引入国内外先进的设计理念和技术,将创新融入产品的每一个环节。
First of all, Shanghai Chiko attaches great importance to the structural design and material selection of products. When designing products, Chiko fully considers the use of solar brackets in different geographical environments and climatic conditions, and ensures that the brackets have sufficient strength and stability through engineering mechanical analysis and simulation. At the same time, high-quality materials such as high-quality steel and corrosion-resistant coatings are selected to extend the service life of the bracket and reduce the environmental impact.
首先,上海晨科十分注重产品的结构设计和材料选择。晨科在设计产品时充分考虑了光伏支架在不同地理环境和气候条件下的使用情况,通过工程力学分析和模拟仿真,确保支架具有足够的强度和稳定性。同时,选用高质量的材料,如优质钢材和耐腐蚀涂层,以延长支架的使用寿命,并减少对环境的影响。
Secondly, Shanghai Chiko's solar bracket products have flexible and diverse installation methods. Whether it is ground installation, roof installation or water surface installation, Shanghai Chiko can provide customers with professional solutions. We have designed a variety of models and specifications of brackets to meet the needs of different power stations. In addition, Shanghai Chiko also pays attention to the adjustability and easy installation of products, making the installation process more efficient and convenient.
其次,上海晨科的光伏支架产品具有灵活多样的安装方式。无论是地面安装、屋顶安装还是水面安装,上海晨科都能为客户提供专业的解决方案。我们设计了多种型号和规格的支架,以满足不同电站的需求。此外,上海晨科还注重产品的可调节性和易安装性,使得安装过程更加高效便捷。
In addition to the products themselves, Shanghai Chiko also pays attention to cooperation and service with customers. We will send a professional technical team to conduct on-site investigation and guide the installation work to ensure the smooth completion of each project. At the same time, the company has established a perfect after-sales service system, providing timely and high-quality technical support and maintenance services, so that customers can be more assured and convenient in the process of use.
除了产品本身,上海晨科还注重与客户的合作与服务。我们会派遣专业的技术团队进行现场勘察和指导安装工作,确保每一个项目的顺利完成。同时,公司建立了完善的售后服务体系,提供及时、高质量的技术支持和维护保养服务,让客户在使用过程中更加放心和便利。
Shanghai Chiko has always been adhering to the concept of "innovation, quality and service", and constantly improves the competitiveness of products and meets customer needs. Chiko's products have been widely used in large-scale solar power plant projects at home and abroad, and have won high recognition and trust from customers. It is believed that with the continuous efforts of Shanghai Chiko, solar bracket technology will continue to improve and make greater contributions to promoting the development of renewable energy.
上海晨科始终秉承着"创新、质量、服务"的理念,不断提升产品的竞争力和满足客户的需求。晨科的产品已经广泛应用于国内外大型光伏电站项目,赢得了客户的高度认可和信任。相信在上海晨科的持续努力下,光伏支架技术将不断进步,为推动可再生能源的发展做出更大的贡献。

Above news from CHIKO Sales & Marketing department
Add: No 680 Xingwen Rd. Jiading dist. Shanghai 201801 China
Email: Chiko@Chikolar.com
Website: http://www.chikolar.com
Fax : +86 (21)59972938
Phone: +86(21) 59972267 59973712 59973713--811