As a clean and renewable energy source, solar energy is being favored by more and more people. To make full use of solar energy, a key factor is to choose a reliable and stable solar roof bracket system. In this regard, we pride ourselves on our solar roof bracket systems to meet your needs.
太阳能作为一种清洁、可再生的能源,正受到越来越多人的青睐。而要充分利用太阳能,一个关键的因素就是选择一款可靠、稳定的光伏屋面支架系统。在这方面,我们引以为豪的光伏屋面支架系统能够满足您的需求。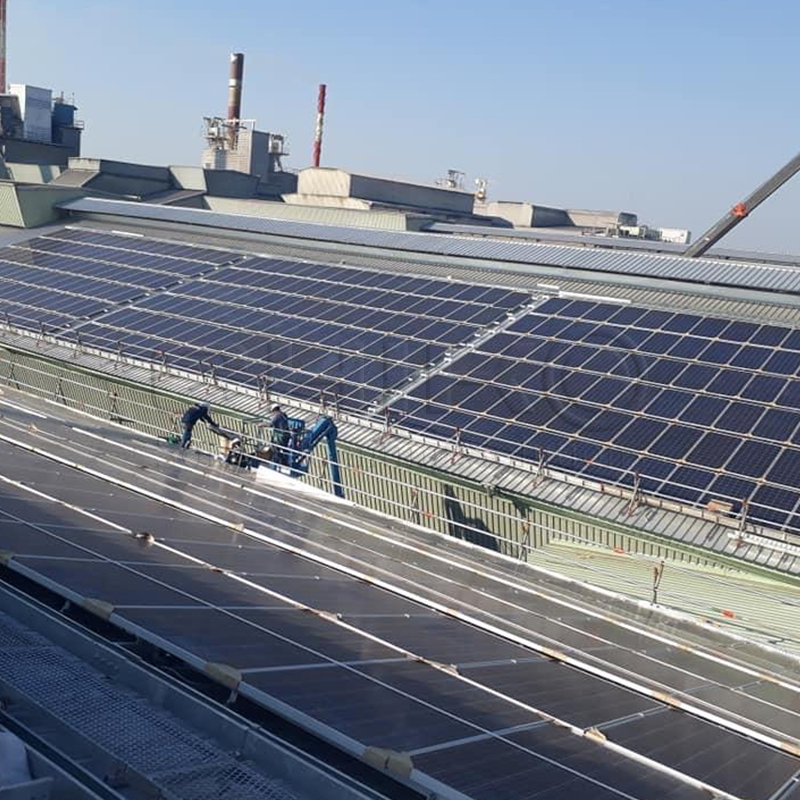 Chiko's solar roof bracket system has unlimited potential. Through careful design and engineering, our solar mounting systems are able to securely secure solar PV modules to the roof, maximizing the use of solar resources. Whether residential or commercial, our systems adapt to different roof types and structures, ensuring the optimal layout and angle of solar panels for maximum energy harvesting efficiency.
晨科的光伏屋面支架系统具备无限潜能。通过精心设计和工程,我们的光伏支架系统能够将太阳能光伏组件安全地固定在屋顶上,最大限度地利用太阳能资源。无论是住宅还是商业建筑,我们的系统都能适应不同的屋顶类型和结构,确保太阳能板的最佳布局和角度,从而实现最高的能源收集效率。
Chiko's solar roof bracket system is super stable. We use high-strength materials to manufacture our support systems to ensure excellent weathering and corrosion resistance. Whether under extreme climatic conditions or during long-term use, our bracket systems remain stable and reliable and unaffected by external factors. This provides a long-term stable operation guarantee for your solar system.

晨科的光伏屋面支架系统具备超强稳定性。我们采用高强度的材料制造支架系统,确保其具备出色的耐候性和抗腐蚀性能。无论是在极端气候条件下还是在长期使用过程中,我们的支架系统都能保持稳定可靠,不会受到外界因素的影响。这为您的太阳能系统提供了长期稳定的运行保障。
Chiko's solar roof bracket system is also easy to install and maintain. We focus on the simplicity of the design and ease of installation of the system, which reduces installation time and cost. At the same time, we provide comprehensive after-sales service and technical support to ensure that you have the best experience during use.
晨科的光伏屋面支架系统还具备易安装和维护的特点。我们注重系统的设计简洁性和安装便捷性,减少了安装时间和成本。同时,我们提供全面的售后服务和技术支持,确保您在使用过程中获得最佳的体验。
Unlimited potential! Super stability! Chiko's solar roof bracket system will help you make the most of solar energy and provide a clean and sustainable energy solution for your building. This not only reduces energy costs, but also contributes to the environment. Choose our solar roof bracket system and let the energy of the sun inject unlimited power into your life and career!
无限潜能!超强稳定性!晨科的光伏屋面支架系统将助您充分利用太阳能,为您的建筑提供清洁、可持续的能源解决方案。不仅能够降低能源成本,还能为环境做出贡献。选择我们的光伏屋面支架系统,让太阳的能量为您的生活和事业注入无限动力!

Above news from CHIKO Sales & Marketing department
Add: No 680 Xingwen Rd. Jiading dist. Shanghai 201801 China
Email: Chiko@Chikolar.com
Website: http://www.chikolar.com
Fax : +86 (21)59972938
Phone: +86(21) 59972267 59973712 59973713--811