As a new type of roofing material, solar TPO flexible roofing has gradually attracted attention in the field of construction in recent years. It combines the advantages of solar solar power generation and TPO roofing, and has a variety of practical and environmental protection characteristics. Recently, Shanghai Chiko has just completed the 13.63MW distributed solar power generation project of the state-owned company factory in Yangzhou Economic and Technological Development Zone, Jiangsu, of which 2.6MW is TPO flexible solar mounting. Below I will introduce you to the characteristics of solar TPO flexible roofing.
光伏TPO柔性屋面作为一种新型的屋面材料,近年来在建筑领域逐渐受到关注。它结合了太阳能光伏发电和TPO屋面的优势,具备了多种实用性和环保性特点。而近日,上海晨科刚刚完成-江苏扬州经济技术开发区国有公司厂房屋面分布式光伏发电项目13.63MW,其中2.6MW是TPO光伏柔性支架屋面。下面我来为你介绍光伏TPO柔性屋面的特点。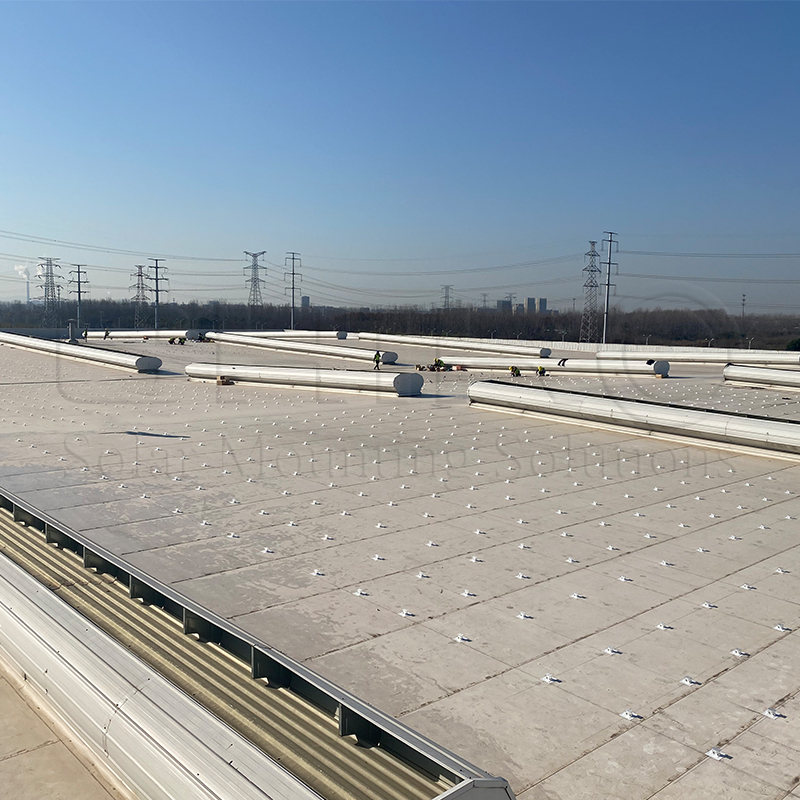 First of all, solar TPO flexible roofing has excellent energy efficiency. Through the installation of solar modules, the roof can directly convert solar rays into electricity, providing clean energy for the building. This not only reduces the dependence on traditional energy, but also effectively reduces energy consumption and environmental pollution.
首先,光伏TPO柔性屋面具有出色的能源利用效率。通过光伏组件的安装,屋顶可以直接转化太阳能光线为电能,为建筑提供清洁的能源。这不仅减少了对传统能源的依赖,还能有效降低能源消耗和环境污染。
Secondly, the solar bracket TPO flexible roof has excellent weather resistance and waterproof performance. It uses TPO material as the roof covering, which has excellent aging resistance, UV resistance and weather resistance, and can operate stably for a long time under harsh climatic conditions. At the same time, its flexible design and jointless construction method effectively prevent water leakage problems and provide reliable waterproof protection for the building.
其次,光伏支架TPO柔性屋面具备优异的耐候性和防水性能。它采用TPO材料作为屋面覆盖层,具有出色的耐老化、耐紫外线和耐候性能,能够在恶劣的气候条件下长期稳定运行。同时,它的柔性设计和无接缝的施工方式,有效防止水渗漏问题,为建筑提供可靠的防水保护。
In addition, the solar TPO flexible roof also has light weight and aesthetics. Compared with traditional solar solar panels, it is made of thin and light materials, does not increase the load on the roof, and can adapt to different shapes and curved roofs. At the same time, its exterior design is flexible and diverse, which can be integrated with the architectural style to enhance the overall aesthetics of the building.
此外,光伏TPO柔性屋面还具备轻质化和美观性。相比传统的太阳能光伏板,它采用轻薄的材料制作,不增加屋面的负荷,且可以适应不同形状和曲面的屋顶。同时,它的外观设计灵活多样,可以与建筑风格相融合,提升建筑的整体美观性。
In general, solar TPO flexible roofing is widely favored for its practicality and environmental protection. It not only provides clean energy for buildings, but also is effective in waterproofing, anti-aging, and aesthetically pleasing. With the increasing demand for renewable energy, solar TPO flexible roofing will play a greater role in the future construction field, and Chiko Solar will continue to optimize and update solar mounting solutions, provide more excellent technologies like "TPO flexible roofing", and continue to contribute to the sustainable development of world energy!
总的来说,光伏TPO柔性屋面以其实用性和环保性受到广泛的青睐。它不仅能够为建筑提供清洁的能源,还能有效防水、抗老化,并且外观美观。随着人们对可再生能源的需求不断增加,光伏TPO柔性屋面将在未来的建筑领域发挥更大的作用,而晨科太阳能将会不断优化更新光伏支架系统解决方案,提供更多像"TPO柔性屋面"的优秀技术,不断为世界能源的可持续发展贡献力量!

Above news from CHIKO Sales & Marketing department
Add: No 680 Xingwen Rd. Jiading dist. Shanghai 201801 China
Email: Chiko@Chikolar.com
Website: http://www.chikolar.com
Fax : +86 (21)59972938
Phone: +86(21) 59972267 59973712 59973713--811