Since 2016 began to increase production capacity, India's solar manufacturing, including the manufacturing capabilities of solar mounting brackets, or the lack of such capabilities, is often worrying. Recently, a new report by IEEFA and JMK Analytics has focused on this industry.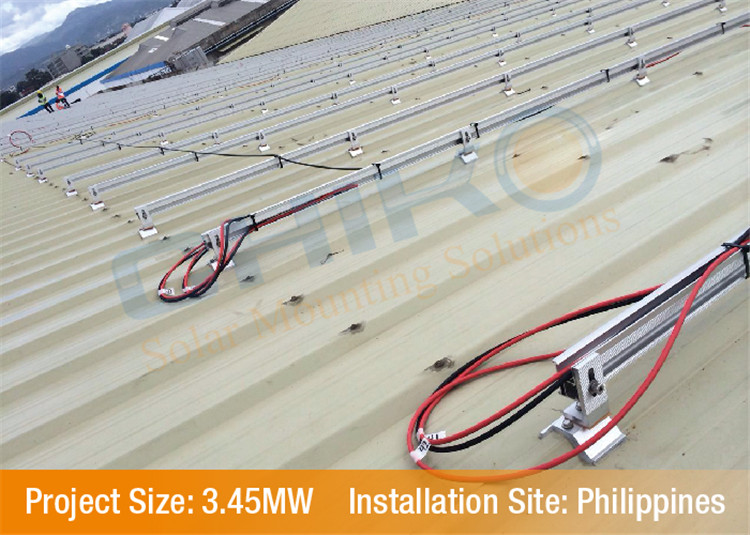 In the context of rising local demand in India, the development of the country's solar energy industry has not yet achieved speed, which is a problem worthy of attention.
Annual import expenditure from 2.6 billion to 45 billion US dollars
This issue is worthy of attention not only because India's annual import expenditure has reached 2.6 billion US dollars since 2015, but also because of the strategic role played by the energy industry, as the report points out.
The Indian government does not want to break it down, but wants to take a more aggressive approach, because India's 450GW target for 2030 involves potential imports of US$18 billion per year. This is the most powerful and simple reason.
The report discussed the common problem of the Indian manufacturing industry-lack of scale and lagging behind on the technology curve (single crystal modules are said to account for only 13% of total production capacity). The difference in component manufacturing costs caused by the use of imported batteries and domestic batteries is 15%-20%. To achieve a real manufacturing breakthrough in India, financial costs will be involved-either incentives or tariffs that lead to higher electricity costs. .
So, why has there been no effect so far? In the past five years, at any time, India has incentives to promote manufacturing, or will introduce more incentives, but in most cases they have little effect.
Whether it is the domestic procurement requirements for centralized subsidy projects (covering rooftop solar and large-scale PM KUSUM plans for solar pumps and solar ground power stations in rural areas) or the CPSU plan targeting 12GW in 2023, the government has done everything it can. From July 2018 to July 2020, the government even used the sledgehammer of safeguard tariffs.
Current capacity and planned capacity of leading companies
When the bidding project is linked to production and manufacturing, it creates the possibility of 3GW capacity (between Adani Green and Azure Power), but whether this approach can be successful is still uncertain, because the electricity cost of the 12GW bidding project is 2.92 rupees. Drive away the cash-strapped distribution company.
This makes the industry have to adopt PLI plans or incentive plans linked to production. The PLI plan brings more hope, because to a certain extent, this plan has become a reality in the electronics industry. Currently, some players who may benefit from this include solar developers who have large enough projects to use self-generated electricity in their own projects.
These developers include companies such as Renew Power, Adani Green and Tata Power. The determined allocation of 450 billion rupees has also put some pressure on quick action. The success of the PLI program will soon become apparent.
Whether it is existing manufacturers such as Waaree Energies, Vikram Solar and Adani Solar, or new manufacturers such as Renew Power and Azure, more than 15GW of manufacturing plans will soon face the real problem of whether to go or stay.
The report specifically mentioned China's practices. This practice has created a miracle and has witnessed China's solar manufacturing industry becoming the global hegemon, with a global share of over 70%. Of course, this also means that India is hardly the only country that relies on Chinese imports.
The European solar energy pioneer countries such as Germany and the United States, which has invested a lot of money in research and development, have also found it difficult to protect their manufacturing champions. In these markets, especially in the United States and Southeast Asia, some of the largest new investments in manufacturing come from Chinese manufacturers.
Perhaps this is what Saibaba Vutukuri, CEO of Vikram Solar, one of the leaders in the solar energy manufacturing industry, expects for the upcoming union budget. His wish list is quite long.
Including tariffs and non-tariff barriers, long-term financial support and direct incentive measures, we need a comprehensive policy framework to make the domestic solar energy industry and solar mounting bracket industry cost-competitive. The Ministry of Finance should consider providing 5% interest subsidies for term loans and working capital, 30% preliminary central financial assistance for capital expenditures, and increasing export incentives based on export product tariffs or tax reduction policies from 2% to 8%. This will help promote the development of local solar manufacturing. "
In addition, the industry is still waiting for the implementation of basic tariff policies (exempt solar manufacturers located in special economic zones) and production-linked incentive programs (PLI). We believe that: reduce the minimum alternate tax for companies operating in special economic zones; extend Article 10AA of the Income Tax Law for solar manufacturing plants in special economic zones until March 31, 2022; provide priority interest rate support and priority loan support for manufacturers ; Provide the National Clean Energy Fund to expand solar energy research and development, these measures are essential to promote the development of domestic solar energy manufacturing.
In addition, we suggest that the government consider implementing tariff barrier policies for at least 4-5 years, such as BCD/guarantee duty/ADD. Providing a 50% capital subsidy within the manufacturing plant for the establishment of R&D and quality testing infrastructure will help scale building. In addition, a 200% super deduction should be allowed for R&D expenditure on new clean solar technology. India has provided a 200% super deduction for R&D expenditures in emerging fields such as biotechnology, which has enabled India's biotechnology and pharmaceutical companies to develop rapidly.
What this story tells is that although almost all the promises have been made, in most cases, the government's implementation is often not in place. Adani Solar, a leading exporter and an important manufacturing leader, has also been in favor of incentivizing manufacturers through higher end-use electricity consumer prices, rather than through government subsidies. The main reason is that there is a problem of the government's rigidity in fulfilling on time.
China's approach is to encourage companies to invest heavily from the first day, build global-scale factories, bring together multiple industry participants through low capital, tax incentives and state support, concentrate R&D expenditures, and share learning experiences. This has not only created a world-leading industry, but also an industry with ambitious expansion plans, which puts continuous pressure on manufacturers who wish to develop together with other industries.
In fact, China's large-scale solar mounting bracket manufacturers have performed so well in expanding their scale and entering new markets that in 2019, we have never doubted that they are the best choice to attract Indian manufacturing. Of course, this is before the border situation in 2020.
It is worth noting that the report did not touch on the problems of the Indian state power distribution company, which also affected the manufacturing industry. Due to financial losses, the distribution company is unable to pay for utility solar projects on time. In order to protect the turf, encouraging rooftop solar energy is the fundamental reason behind the failure of these measures. In addition, the parallel theme of electricity makes the reform of the distribution industry more difficult.
Andhra Pradesh recently ignored the central regulations and went its own way, which also indicates the seriousness of future problems.
In summary, it is obvious that local manufacturing in India is no longer a desirable option, but an indispensable existence. But to achieve this goal, India needs to make some difficult decisions, it needs to be willing to take risks, and of course, it also needs sustained and predictable growth in local demand, which will encourage Indian companies to invest. As the situation in 2020 shows, it is clear that all the shortcomings in these areas must be made up.

Above news from CHIKO Sales & Marketing department
Add: No 680 Xingwen Rd. Jiading dist. Shanghai 201801 China
Email: Chiko@Chikolar.com
Website:
http://www.chikolar.com
Fax : +86 (21)59972938
Phone: +86(21) 59972267 59973712 59973713--811