Shanghai Chiko participated in the 16th Italian International Renewable Energy Exhibition 2023 will be held on March 22~24 in Rimini Expo Centre, Via Tmilia, 155-47921 Rimini (RN), Italy, booth number D6-010B, we are ready to prepare real sample cases, and professional personnel to answer solar bracket system solutions for you, there are more factory exploration videos, team display and so on for you to see, welcome your arrival!
上海晨科参与的2023年第16届意大利国际可再生能源展将于3月22日~24日在Rimini Expo Centre,Via Tmilia,155-47921 Rimini(RN),Italy举办,展位号为D6-010B,我们准备好了真实的样品案例,以及专业的人员为您解答光伏支架系统解决方案,更有探厂视频、团队展示等你来看,欢迎您的到来!
If you cannot participate in the exhibition in time, we also have an online exhibition (click "Online Exhibition" to enter the Chiko solar mounting online exhibition), please contact us directly or leave us a message.
如您不能及时参展,我们还有线上展会www.en.key.energy.it(点击"线上展会"即可进入晨科光伏支架网上展会),请直接联系我们或者给我们留言。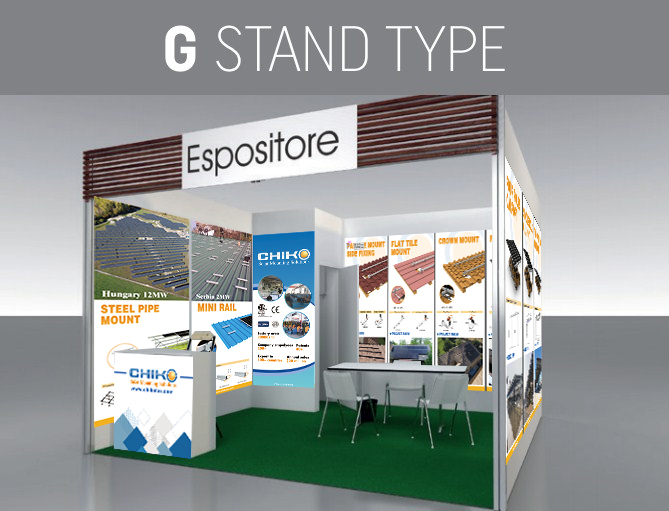 Shanghai Chiko has been established for 12 years, the cumulative installation volume of more than 30GW, gathered the country's high-precision talents and fully equipped key laboratories, design verification standards cover most countries in the world, obtained more than 40 domestic patents, focusing on solar roof fixed brackets, solar ground mount, solar manual adjustment mount, BIPV systems, flexible brackets, solar carports, Solar TPO roofs and solar tracking systems research and development, design, manufacturing and sales, and in the United States, Thailand, Brazil and other more than ten countries set up subsidiaries or service centers, Through the certification of more than 20 countries and regions around the world, including the United States UL, TUV, CE, AS/NZS1170 and RWDI wind tunnel test and other certifications, we strive to achieve green energy into thousands of households. At present, the export volume ranks among the top three in the bracket industry, and it has cooperated with China's first-line module brands, such as JA Solar, Jinko, Lin Yang, Jolywood, Risen Energy, Chint and so on.
上海晨科成立已有12年,累计安装量超30GW,齐聚全国的高精尖人才以及配置齐全的重点实验室,设计验算标准涵盖全球大部分国家,取得40多项国内专利,专注于太阳能固定支架,手动可调,BIPV系统, 柔性支架, 光伏车棚支架系统, TPO屋顶以及跟踪系统的研发、设计、制造和销售,并且在美国、泰国、巴西等十多个国家设立了子公司或服务中心,通过全球20多个国家和地区的认证,包括美国UL、TUV 、CE、AS/NZS1170 以及RWDI风洞测试等认证,全力实现绿色能源走进千家万户。目前出口量在支架行业里出口排名前三, 与中国一线组件品牌均有合作, 如晶澳, 晶科,林洋,中来, 东方日升、正泰等。

Above news from CHIKO Sales & Marketing department
Add: No 680 Xingwen Rd. Jiading dist. Shanghai 201801 China
Email: Chiko@Chikolar.com
Website: http://www.chikolar.com
Fax : +86 (21)59972938
Phone: +86(21) 59972267 59973712 59973713--811