Photovoltaic power generation is a clean energy source that utilizes solar energy for power generation. In photovoltaic power generation systems, solar panels are responsible for converting solar energy into electricity, and photovoltaic brackets are an important component for achieving the installation and fixation of solar panels. Among them, the solar tracking mounting system is a photovoltaic bracket system that can automatically rotate with the movement of the sun, which can improve the utilization efficiency and power generation of solar energy.
光伏发电是一种利用太阳能进行发电的清洁能源。在光伏发电系统中,太阳能电池板负责将太阳能转化为电能,而光伏支架则是实现太阳能电池板安装和固定的重要组成部分。其中,跟踪支架系统是一种可以随着太阳的运动自动转动的光伏支架系统,可以提高太阳能的利用效率和发电量。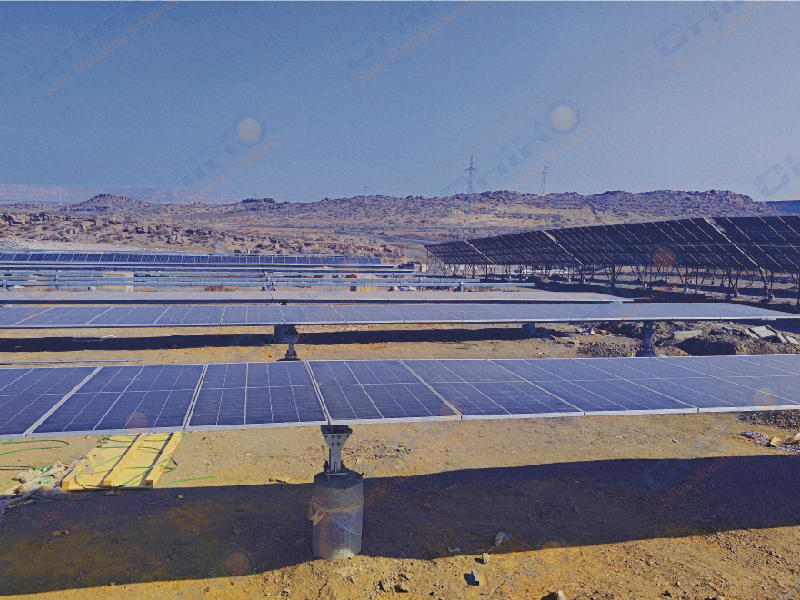 CHIKO Solar, as a world leading manufacturer of solar mountings, is committed to the research and production of photovoltaic mounting system. The solar tracking mounting system has the following characteristics:
晨科太阳能作为一家世界领先的太阳能支架制造商,致力于光伏支架的研发和生产。其跟踪支架系统具有以下几个特点:
Firstly, the solar tracking mounting system of CHIKO Solar adopts high-quality materials and processes, which have high strength and durability. The surface of the main body of the support system has been sprayed, which not only can withstand the challenges of strong winds and harsh weather, but also has anti-corrosion performance, ensuring long-term stable operation.
首先,晨科太阳能的跟踪支架系统采用了优质的材料和工艺,具有高强度和耐久性。支架系统主体的表面经过喷涂处理,不仅能够承受强风和恶劣天气的挑战,而且具有抗腐蚀的性能,能够保证长期稳定的运行。
Secondly, the solar tracking mounting system of CHIKO Solar adopts precise control technology, which can track the position and motion trajectory of the sun in real-time. The bracket system can automatically adjust the angle of the solar panel based on the position of the sun by installing precise sensors and controllers, ensuring the optimal absorption of solar energy. Compared to traditional fixed photovoltaic support systems, tracking support systems can improve the utilization of solar energy and increase power generation.
其次,晨科太阳能的跟踪支架系统采用精密的控制技术,能够实时跟踪太阳的位置和运动轨迹。支架系统通过安装精密的感应器和控制器,能够根据太阳的位置自动调整太阳能电池板的角度,保证太阳能的最佳吸收效果。相比于传统的固定式光伏支架系统,跟踪支架系统可以提高太阳能的利用率,增加发电量。
Thirdly, the solar tracking mounting system of CHIKO Solar has flexibility and scalability. The bracket system adopts a modular design, which can be assembled and expanded according to actual needs, and is suitable for photovoltaic power stations of different scales. Users can choose single axis or dual axis tracking technology based on their actual needs, and make flexible adjustments according to terrain and environmental conditions.
第三,晨科太阳能的跟踪支架系统具有灵活性和可扩展性。支架系统采用模块化设计,可以根据实际需要进行组装和扩展,适用于不同规模的光伏发电站。用户可以根据实际需求选择单轴或双轴跟踪技术,并根据地形和环境条件进行灵活调整。
Overall, CHIKO Solar's tracking bracket system is an efficient, reliable, and flexible photovoltaic bracket system. By adopting high-precision control technology and high-quality materials, the optimal absorption effect of solar energy can be achieved, improving the efficiency and power output of photovoltaic power generation systems. I believe that with the continuous innovation and improvement of CHIKO Solar, the solar tracking mounting system will be further developed and applied, making greater contributions to the development of the photovoltaic power generation industry.
总的来说,晨科太阳能的跟踪支架系统是一种高效、可靠、灵活的光伏支架系统。通过采用高精度的控制技术和优质的材料,能够实现太阳能的最佳吸收效果,提高光伏发电系统的效率和功率输出。相信在晨科太阳能的不断创新和改进下,跟踪支架系统将会得到进一步的发展和应用,为光伏发电行业的发展做出更大的贡献。

Above news from CHIKO Sales & Marketing department
Add: No 680 Xingwen Rd. Jiading dist. Shanghai 201801 China
Email: Chiko@Chikolar.com
Website: http://www.chikolar.com
Fax : +86 (21)59972938
Phone: +86(21) 59972267 59973712 59973713--811